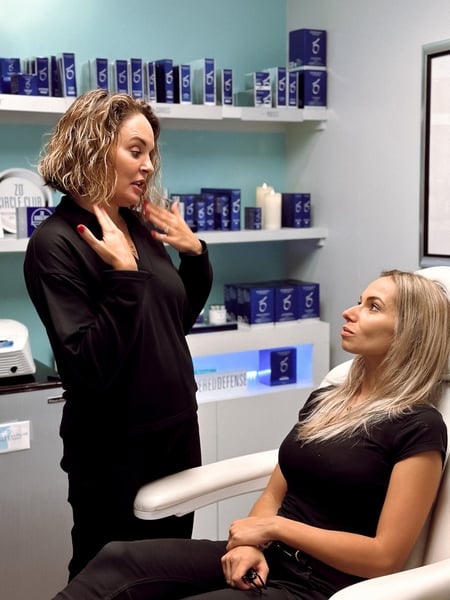 Welcome to St Johns Aesthetics and Wellness Center, owned by Lorie Carter, APRN. We are thrilled that you have chosen to visit our website. With over 13 years of experience in aesthetics and more than 20 years as a nurse, I am dedicated to providing the highest quality care. As a St Johns County local, I completed my undergraduate and graduate studies at the esteemed University of North Florida.
I am extremely proud to have had the opportunity to work alongside national and international trainers in the field of lasers and injectables. Some of my work has even been showcased at international aesthetics conferences. Holding certifications as a laser trainer for Sciton and a ZO Skin Health expert, I am committed to giving back to the aesthetics community. I take great pleasure in helping new providers in the industry grow and excel in this amazing field. In fact, I have trained numerous providers in aesthetics.
Our patients' natural-looking outcomes speak for themselves. My approach to cosmetic clients, like you, is centered around achieving a more beautiful and natural appearance that does not appear "done." You can trust that I will never recommend something you do not need. Patients adore the natural-looking results they achieve, whether it be through laser resurfacing or cheek and lip augmentation with filler. My ultimate goal is to make Florida more beautiful, one face at a time.
When it comes to your aesthetic journey, don't settle for just any medical spa. Trust in an expert who is passionate about helping you look and feel your best.
Our mission
St. Johns Aesthetics is committed to helping our clients achieve their beauty goals in a safe, comfortable, and supportive environment. We offer a wide range of services to address a variety of skin concerns, and we use only the highest quality products and equipment. Our team of experienced and knowledgeable professionals is dedicated to providing our clients with the best possible experience.
Core values
Our clients are always our top priority. We strive to provide them with the best possible experience and help achieve their beauty goals.

We always put the safety of your clients first. This means using high-quality products and equipment, following all safety protocols, and being aware of any potential risks.

Being honest and ethical in our dealings with our clients and employees. This means being transparent about our pricing, our services, and our products.

We strive to provide the best possible services to our clients. This means using the latest techniques and technologies, and staying up-to-date on the latest trends in the aesthetics industry.
Sign up for our newsletter
St. Johns Aesthetics Blog
Latest news and information relating to aesthetics services and technologies